Filter by Category
STEAM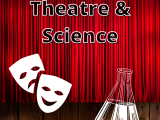 Theatre and Science (Grades 2-6) - with Zora Medor
with ArtsCamp Staff

Jul 5, 2022 at 9 am

, runs for 1 week
In this week-long camp, students will learn how to act as scientists. Students will practice with projects and theories related to astronomy, geology, palontology, physics, inventions, and agriculture. Throughout the week, students will perform short scenes together, finishing on Friday with a larger, final performance.
Will run
Design Concepts for Kids (2-6) - with Aidan Malsbary
with ArtsCamp Staff

Jul 5, 2022 at 1 pm

, runs for 1 week
Throughout the week, kids will create a structure from start to finish, including creating plans, blueprints, building, and testing the structural integrity of their creation.
Full Course